Welcome to Eagle Christian Academy!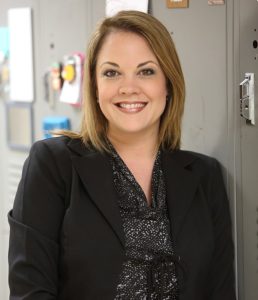 I invite you to explore our website and learn more about ECA as a school for your children and community for your family. As a parent and a teacher at ECA, I fell in love with the school and everything that makes it truly exceptional. Now, as the principal, I am working with our staff to offer a rich and challenging curriculum designed to engage students and help them develop strong minds, excellent leadership skills, and a heart for Christ and others around them.
What distinguishes an ECA education from that of other private schools is the special and caring relationships between faculty and students that come from our commitment to knowing our students. Those relationships form the cornerstones of our academic program and make the ECA experience so personally enriching. Being truly involved in our students's lives offers them a unique and competitive advantage, not just in preparation for college, but for a lifetime of achievement. Together as a faculty and in partnership with students and parents, we take an individualized approach to teaching and learning. We invest in discovering and understanding each students' talents, interests and personality.
In my time at ECA, I have experienced the warmth and authenticity of the school community and witnessed the principles that define an ECA education. I have seen them vividly come to life in the pictures and stories of our students' achievements and service. Mostly, I have seen how these values and ideals are woven deeply into the daily experience, whether in the classroom, on athletic fields, or in weekly Chapel.
At Eagle Christian Academy, we create foundations of trust and connections that empower our students to step outside their comfort zones to achieve things they thought were not possible, while becoming confident with who they truly are. This is the ECA advantage. As an educator and a parent, I can think of no greater purpose or outcome. I enthusiastically invite you to visit ECA's campus and meet the students and faculty who fill our community every day with a love of learning, strong faith, good character, friendship and the remarkable ECA spirit.
Blessings,

Adrielle Selke
Adrielle Selke was born and raised in Waco, Texas. When she was just 17 years old, she felt God calling her into the field of education, which ultimately led her to pursue a BS in Secondary Education at Baylor University. After graduating from Baylor, she received her Masters degree in Educational Leadership from Tarleton State University. Her native roots kept her in Waco, where she began her career as a business owner, working as an educational interventionist and certified reading therapist. She has since served in education as a teacher and administrator for 22 years.
Adrielle is a life-long learner and continues to use her free time to expand her knowledge through reading and studying. She is passionate about Jesus and children, and has committed her life to following Him and using her gifts for the Kingdom. She plans to pursue her doctorate in education soon, and would love to own a coffee shop, where she could cultivate a cozy, inviting space for kids to come study and mingle. When she is not working, she loves spending quality time with her husband, Coby, and her two daughters, Skyler and Chloe.